How we got engaged series- Mason and Jessica
How we met:
Very few people are lucky enough to meet their soul mates when they are just 8 years old.  Mason and my school district decided to combine the two elementary schools.  Us St. Charles kids were not too happy about those cootie carrying New Virginia kids invading our schools.  Mason and his NV friends were not too happy about the move either.  So we started third grade with a bunch of kids we'd never met before.  Mason and I happened to be in the same class.  Unfortunately, we do not remember much about this.  After that year, Mason's parents decided to home school him, and I did not see him again until we joined the same youth group in junior high.  I, of course, developed a crush on him.  He, of course, could've cared less.  This crush carried into high school where he was duel enrolled (half home-school, half traditional.)  Mason cheated off me in all the important classes, and I flirted with him in all the others. I asked Mason to senior prom, he said, "No."  Still, we developed a goofy, fun, and lighthearted friendship.  After high school, we grew apart, and didn't see each other for more than 3 years.  We reconnected on Facebook, and started hanging out occasionally.  I was always in a relationship, and we were always just friends, but that friendship was so easy. I took a promotion from my job and had to move 3 hours away, but our friendship continued.  We camped and traveled to Mexico together, and I became friends with his friends.  I loved his family as if they were my own.  My mother and siblings really enjoyed him.  I spent my weekends traveling back from Northern Iowa just so I could go to church with him and his family.  All this time, we were truly just friends, but eventually we knew we were stupid for believing that our friendship could stay just that.  God made us for each other, and we could no longer deny it.  I moved back home, our whirlwind relationship seemed like it had lasted our entire lifetime, and we really wanted it to continue.  Here we are two years later, completely different people than when our relationship started.  I started a teaching career and he enrolled in law school.  But, through all our personal life changes, our relationship has never been a question.  It has become a part of us, the best part of who we are.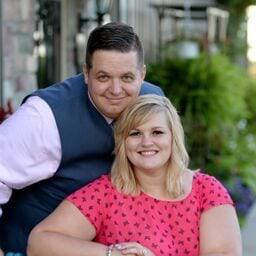 How we got engaged:
Mason's friends quickly became my friends.  I met my best friend, my maid of honor, through Mason.  She invited me to get our nails done together, something I hadn't done before.  Mason said he wanted to pay for it as part of my graduation gift.  I had been wanting to get engaged, and thought maybe he would do it graduation day. Mel and I had such a fun time getting our nails done that I was confused when she basically threw an envelop at me and said she had to leave as we were paying for our manicures.  I got to my car and opened the envelop. "Roses are red, violets are blue, I cannot wait to spend the rest of my life with you.  Meet me at the place with the best pizza and nasty fries in town."  So I started to drive to Felix and Oscars, thinking of all the places, this was were he picked to propose!  I pulled up and saw his dad waiting in his truck.  I started to walk in, and he pulled up and handed me another card.  This one quoted the notebook and sent me to IHOP (inside joke here!)  His mom was waiting at IHOP with another card that sent me to the floral shop.  I received a dozen white roses and another card that sent me to his families auto shop.  Here, a card was taped to the door advising me to ditch my car and start walking.  I ended up at a pretty little bridge that he had strung lights up on.  He was waiting, music was playing, it was cold and raining.  His parents and Mel were taking pictures as Mason go down on his knee and asked me to marry him.  It was perfect.  Everything about it was perfect.  I remember thinking that this engagement was just like Mason, putting in all that effort for me.  It was nothing out of the ordinary for him to go out of his way to make things perfect for me, and this mentally has continued into our wedding planning.  We are so blessed to have each other.  Just as God brought Mason into my life, he has brought Harpor's Vineyard into ours.  We continue to count down the days until our wedding and the perfect venue, the one Mason and I will forever consider ours.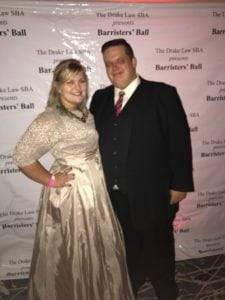 ___________________________________________________________________
The first 10 minutes after reading this I just sat staring at the computer. For those of you that don't know Mason and Jessica, they are one of the best couples to be around. They make me laugh every single time we meet at the venue. Jessica always has dreamy visions of the wedding and Mason entertains the ideas with as much enthusiasm as a groom can give.
A little special note about this couple. As special and amazing as the engagement story, these two are one of only a few couples left to get married that booked at Harpors Vineyard before it was even close to completion. There will always be a special place in our hearts for this couple, and… their ABSOLUTELY AMAZING FAMILY! I have been counting down the days until this wedding, 1. Because I am so excited to see these two get married 2. Jessica reminds me every week how many days are left
-Shay